The Norwegian world music quintet Bárut (sami for waves), has released their debut album Balggis (sami for path), an album that has received the best of critics in the biggest papers in Norway. The album is produced by Frode Fjellheim, a multi award winning musician and composer of international reputation.

The group consists of Inga Juuso (vocal/yoik), Asbjørn Berson (vocal/guitar/sampling), Audun Eriksen (didgeridoo/flutes), Hildegunn Øiseth (trumpet/flugelhorn/goat horn) and Martin Smidt (percussion). The five musicians are each on their own performers and composers in many different ensembles and projects, and taking part in tours, festivals and concerts throughout the whole of Scandinavia.
The music is based on yoik, the music of the native norwegians, the Sami people. Yoik is known to be the oldest vocal tradition in Europe, and is passed on from one generation to the next by performed relation and preservation. Yoik has trough hundreds of years played a key role in the cultural history and religion of the Sami people. Inga is one of the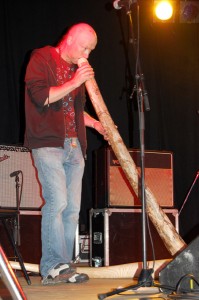 leading yoikers in Scandinavia and an internatal sought-after artist. She uses her self-taught traditional technique to keep the proud culture of the Sami yoik alive. Bárut blends yoik with modern soundscapes, blues and jazz. On top of this Audun performs the australian instrument didgeridoo, making Bárut a multi-cultural project.